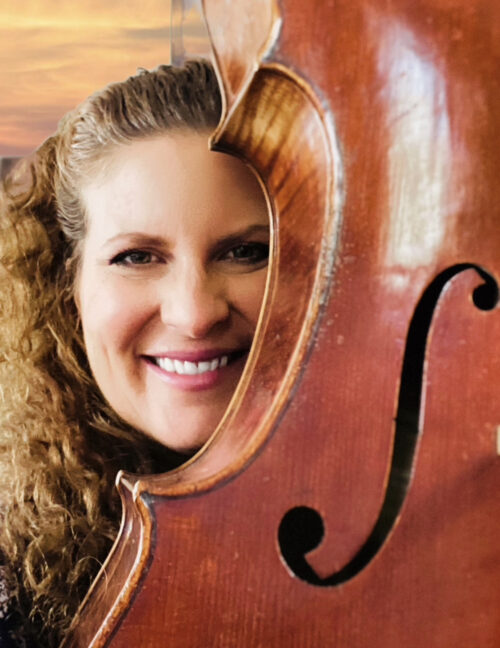 We are incredibly fortunate to be able to host Ms. Nicole Pinnell, as our guest clinician this year. She will be presenting the workshop "Resilience and Creativity: Essential Tools for Growth."
"Resilience and creativity are essential tools in both music and life. In her clinic, Nicole Pinnell will share how nurturing these practices have kept her musical growth on the fast track.  Pinnell's presentation will include performances of both classical and improvised pieces."
You can read Ms. Pinnell's impressive bio below:
Nicole Pinnell is an outstanding artist who has accomplished herself in every realm of music. Her unique set of accomplishments include: recording artist, performer, educator, composer, arranger, and album producer. As one of Utah's most sought-after and prolific recording artists, Pinnell has soloed on over a hundred film scores, three Grammy-nominated albums, and many Billboard-charting albums, including her own, titled Away in a Manger, A Cello Christmas. Pinnell's evocative and emotional solos are heard in the Hogwarts Legacy videogame; Lamb of God, Concert Film, and in the Book of Mormon videos produced by the Church of Jesus Christ.

Pinnell's first tour was at age 12 with the first three Bach Cello Suites. Nicole continued her trajectory in Carnegie Hall at age 14 and by age 19, Pinnell appeared across the former Soviet Union, Europe, and the US with Joshua Bell. Subsequent performances have been with numerous artists, such as Andrea Bocelli, Yo-Yo Ma, Olivia Rodrigo, Idina Menzel, Josh Groban, Michael Bublé, David Archuletta, Nathan Pacheco, and Hans Zimmer. Additionally, Pinnell has performed or recorded for several legendary rock bands, including Led Zeppelin, Aerosmith, and Disturbed.

As a teacher, Pinnell is equally accomplished. In 2012, Pinnell was awarded Educator of the Year by Utah's American String Teacher Association. Her students, energized by her emotional style and call for connection and accountability, regularly win top scholarships and prizes. As an orchestral musician, Nicole has served full-time with the Utah Symphony, and early in her career served as principal cellist of Ballet West. Pinnell's classical piano trio, the Uinta Trio, which frequently performs across the Midwest, is slated to tour the Middle East in early 2024.

A distinct feature of Pinnell's mindset is continuous growth. In 2015 Pinnell was selected by Yo-Yo Ma to be in the inaugural Global Musician Workshop, which led to immersive studies with musicians from African, Hindustani, Peruvian, and Asian traditions. These experiences infused Pinnell with a desire to compose. One of her first original works, Thorns and Thistles, a musical underscore performed at Columbia University in New York City, won an award from the Association of Mormon Letters.

Pinnell has a Bachelor of Music from ASU and in 2022 was awarded a Master of Music degree from the London College of Music. For her Master's degree, Pinnell studied under innovative, four-time Grammy award-winning cellist Eugene Friesen, with an emphasis in improvisation. Studies also included electric cello, effects, and looping as well as chart reading, composition, arranging, and singing. Last year, Pinnell began soloing in Europe and has been engaged for numerous appearances abroad for the 2023 season. Pinnell's next Utah engagement will be the Emmet Cahill: Irish American Celebration at the end of June, and her next album release will be an album of Pinnell's original works for solo cello, commissioned by Warner Chappell Music, to be released in late 2023.

To hear some of Pinnell's upcoming releases, please subscribe to Nicole PInnell@allthingscello on YouTube or visit her website at nicolepinnell.com.
Date: Monday, July 17th, 2023, 12:50pm-1:40pm
Location: Waterford School (9502 S 1700 E, Sandy, UT)
Age Recommendation: 9 and up